Wisconsin Union will host week of activities for UW-Madison graduates, families to celebrate commencement
Posted: 05/02/23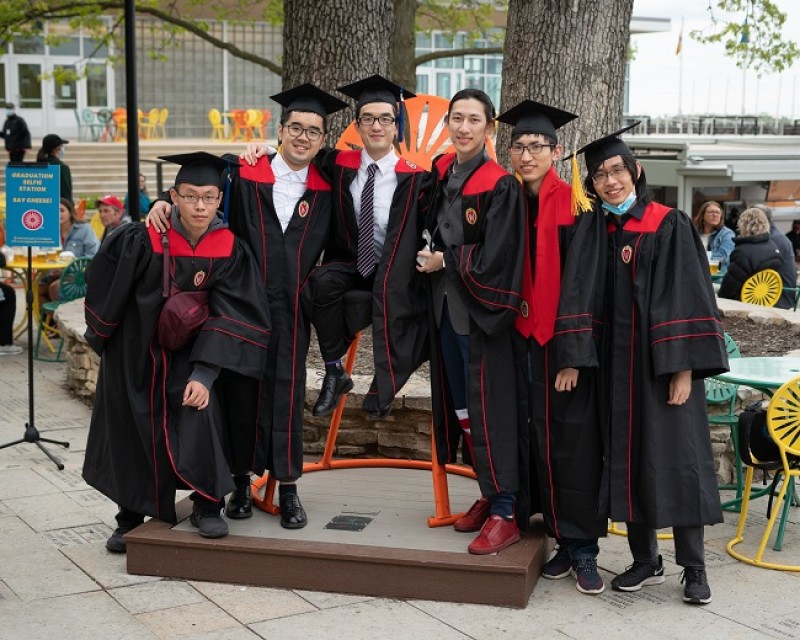 "The living room" of the University of Wisconsin–Madison, the Wisconsin Union, will be welcoming graduates, their families and friends for a week full of graduation activities and events at Memorial Union and Union South.
The fun starts with the Senior Class Office's Senior Bash on May 6 from 5-8 p.m. at Memorial Union and the Memorial Union Terrace, complete with free games, arts and live music featuring DJ Nick Nice for the members of the Class of 2023. Graduating students are invited to dance, create crafts and commemorate their time together.
Grads-to-be can also head over to Wheelhouse Studios for the free opportunity to decorate their caps at Cappy Hour from May 6-10 between noon and 9 p.m.
Graduates and their loved ones can enjoy open mic night on the Terrace on Wednesday, May 10, at 7 p.m. Additional free Terrace entertainment during graduation weekend include live rock covers from The Mersey Brothers featuring Sean Michael Dargan on Friday, May 12, at 7 p.m., and live soul music from Madison-based band Don't Mess With Cupid on Saturday, May 13, at 7 p.m.
New graduates will be able to commemorate this exciting life event with a free professional photo on a big Terrace chair on May 13 at Union South from 10 a.m. - noon and at the Terrace from 2-4 p.m. These new alumni and their loved ones can also be some of the first people to snap photos at a new vibrant selfie station by the Sett in Union South, a display which will be up throughout the summer.
Friends and family members are welcome to enjoy a livestream of Saturday's bachelor's, master's and law degree commencement proceedings from der Rathskeller in Memorial Union or from the Sett in Union South. Several dining options will be available at both locations for patrons to enjoy made-to-order dishes and refreshing beverages. Seating for the indoor livestreams – and the 2,000 outdoor sunburst chairs on the Terrace – are on a first come, first served basis. Flowers, Badger gifts and other items, such as limited edition purple-and-teal mini Terrace chairs, will be available for purchase at Memorial Union and Union South Badger Markets.
"Our new graduates have worked so hard to reach this life achievement," said Mark Guthier, Wisconsin Union director and associate vice chancellor for Student Affairs. "We are honored to make the moment even more special for them."
Individuals looking for the perfect congratulatory gift for their UW–Madison graduate can buy $50 lifetime Wisconsin Union memberships, a 75% discount available for a limited time for new graduates only.
For more information about the Wisconsin Union's graduation events, visit union.wisc.edu/graduation.