GRAMMY-nominated harpist brings innovation to jazz to Wisconsin Union Theater stage on Sept. 29
Posted: 09/22/23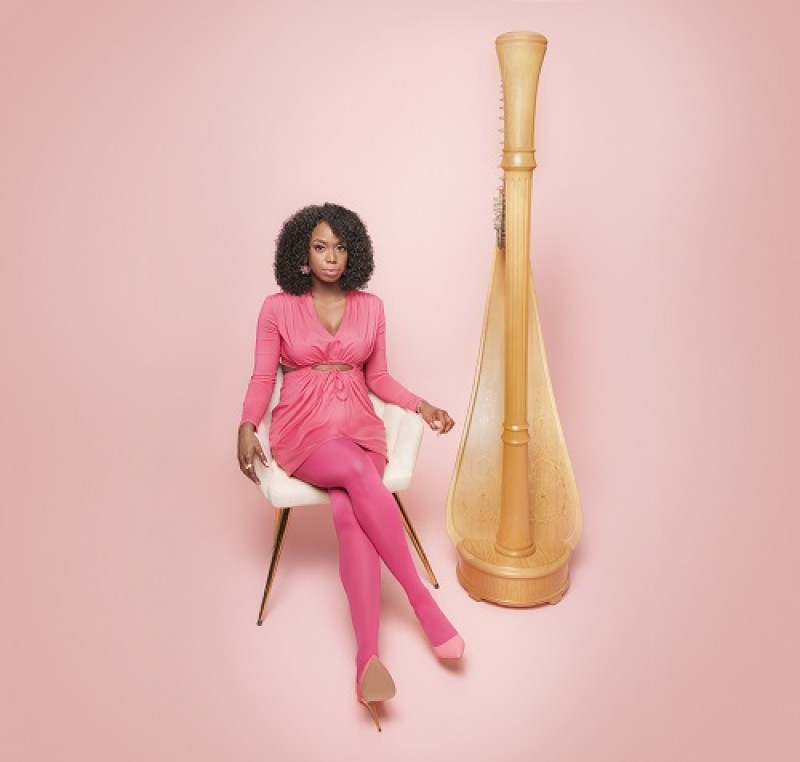 Theater-goers can experience the music of Brandee Younger, an artist who is said to be revolutionizing the harp for the digital age, on Sept. 29 in Madison, Wisconsin, as part of the Wisconsin Union Theater (WUT) 2023-24 season.
Younger, drummer Joe Dyson and bassist Rashaan Carter, who make up the Brandee Younger Trio, will perform in the Play Circle Theater at Memorial Union starting at 7:30 p.m.
The performance lineup will include work from her most recent album, called "Brand New Life," released in April 2023 through Impulse! Records.
"Younger is a strikingly gifted performer, blessed with a crisp technique marked by spiraling, melodic lines and great harmonic, multi-note swells," said musician and writer Matt Collar in reviewing "Brand New Life." "While sophisticated post-bop jazz is at the core of her style, she pulls equally from classical, funk, and R&B."
While patrons may hear chamber music influences in her work, critics often affirm Younger is primarily a jazz musician, a unique classification for the string instrument she plays. Since early in her career, she expressed an interest in genres outside of classical music, such as R&B, jazz and pop, according to a story on Relix.com, and critics agree that her work continues to revolutionize the harp.
Younger has made history as the first Black female solo artist to earn a nomination for a GRAMMY Award for best instrumental composition for her song, "Beautiful is Black." She also received a nomination for an NAACP Image Award. Her list of past music collaborators includes Beyoncé, John Legend, Marcus Strickland, Kassa Overall, and Makaya Mccraven, who will also perform during the WUT 2023-24 season.
The Trio's performance is part of WUT's 2023-24 Jazz Series, which also features:
The WUT team's 2023-24 season of stars and stars on the rise additionally includes dance, chamber music, an annual celebration of contemporary Black art, and international music. More information is available at union.wisc.edu/about/news/wut-2023-24.
Patrons can save 20% on season events tickets by purchasing a Classical Series or Jazz Series subscription available through Sept. 28. For the first time, theatergoers can also save with brand-new build-your-own subscription options of three to five events for 15% off or six or more events for a 20% discount
Patrons can purchase subscriptions and single tickets to Wisconsin Union Theater performances online, in person at the Memorial Union Box Office, or by phone at (608) 265-2787.
Purchases of WUT tickets and purchases at Memorial Union dining options, the Memorial Union Terrace, TerraceStore.union.wisc.edu and Union South dining options help the Theater and other areas of the Wisconsin Union provide gathering spaces, events and student leadership opportunities for hundreds of University of Wisconsin–Madison students each year.
Patrons interested in learning more about the Brandee Younger Trio's performance or in purchasing tickets can visit union.wisc.edu/events-and-activities/event-calendar/event/brandee-younger.