Grammy winner Terence Blanchard will pay tribute to living jazz legend Wayne Shorter During Nov. 5 performance
Posted: 10/14/21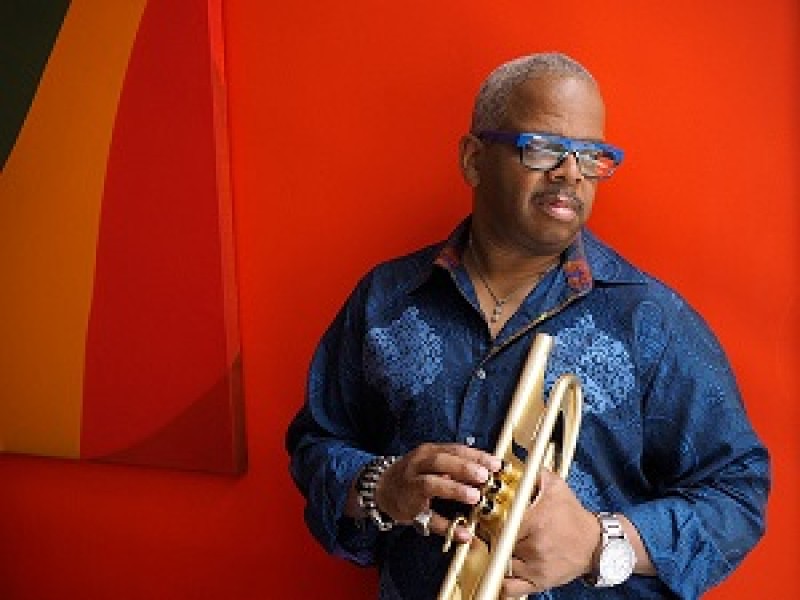 The Wisconsin Union Theater team presents a performance featuring Oscar-nominated, Grammy-winning trumpeter and composer Terence Blanchard, who will pay tribute to his mentor Wayne Shorter in a special collaborative project, called ABSENCE, with The E-Collective and Turtle Island Quartet on Nov. 5 at 7:30 p.m. in Shannon Hall at Memorial Union.
For Blanchard, this project presents an opportunity to pay homage to Shorter and his 50 years of creating and performing music as well as his jazz innovation. Blanchard says that Shorter's music shaped his musical identity.
Called the world's greatest living jazz composer by The New Yorker, saxophonist Shorter founded the jazz fusion group the Weather Report, recorded more than a dozen albums, played in Art Blakey's Jazz Messengers and composed pieces for the group, as well as performed in and composed for Miles Davis's Second Great Quintet.
His protégé Blanchard has become a jazz icon, as well, with a career that includes composing more than 40 film scores, winning five Grammys, receiving two Oscar nominations, and recently becoming the first Black composer to have his work performed by the Metropolitan Opera.
The Nov. 5 program will include compositions by Shorter as well as original pieces from Blanchard's quintet The E-Collective. The E-Collective's original works aim to weave in musical storytelling, which is a hallmark of Shorter's compositions and performances. Patrons will experience how Blanchard embeds his passion for social justice in his musical storytelling.
"You feel the level of intolerance that exists for people who ignore other people's pain. Musically, I can't ignore that," Blanchard said. "I can't add to that intolerance. Instead, I have to help people heal from it."
Patrons can purchase tickets to the in-person performance through the Campus Arts Ticketing website or at the Memorial Union Box Office. Current University of Wisconsin–Madison students, staff and faculty as well as Wisconsin Union members are eligible for discounted tickets. Ticket prices range from $10-50.
Patrons are welcome to arrive at Memorial Union early and enjoy a beverage at the Shannon Sunset Lounge across from the Shannon Hall lobby or food and beverages at the Memorial Union's many on-site dining options.
Tickets for most Wisconsin Union Theater season events are also available for purchase, with the exception of single tickets for a April 30, 2022, concert with opera legend Renée Fleming and the Black Arts Matter Festival, which will go on sale in early 2022.
Wisconsin Union Theater patrons and all Wisconsin Union team members must follow the current UW–Madison health and safety protocol of wearing a face covering when indoors on campus, unless actively eating or drinking. The Theater team has established the temporary additional health and safety measure of ensuring 20 feet of space between performers and audiences in performance spaces. The Wisconsin Union team also thoroughly and regularly cleans and disinfects its spaces.
Patrons can click here for more information about the upcoming performance.