Free outdoor movies, including surprise Sunday selection, to bring the cinema to Memorial Union Terrace
Posted: 05/24/23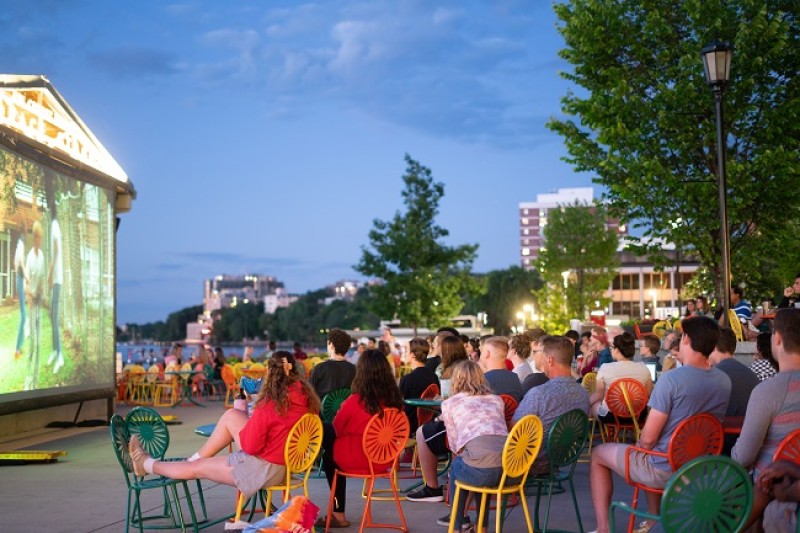 This summer is bringing a beloved tradition back to the Memorial Union Terrace but with an exciting new addition. The Wisconsin Union Directorate (WUD) Film Committee's 2023 Lakeside Cinema series will bring free outdoor movies of many genres to the Terrace each Monday, with a select group of Sunday titles to be announced just before each screening to make for some summer surprises.
The Sunday series, titled Secret Sunday Scaries, features an array of spooky-themed films whose titles will be hinted at and then announced on the WUD Film Committee's Instagram and Facebook accounts on the Thursday afternoons before each screening. Each screening begins at 9 p.m. Secret Sunday Scaries dates and film ratings are as follows:
Along with these select Sunday screenings, from May 29-Sept. 4, patrons can enjoy free Lakeside Cinema films every Monday evening at 9 p.m. on the UW Credit Union Terrace Stage. The scheduled dates, titles and film ratings are as follows:
"Our Terrace screenings celebrate Madison as a city and as a community," said Heewone Lim, WUD summer film coordinator and University of Wisconsin–Madison student. "In a regular theater viewing experience, you wouldn't be able to sit in our iconic sunburst Terrace chairs or split a cup of ice cream from the Daily Scoop with friends and family. With Lakeside Cinema, we're able to provide a space where our audience can make and share memories, creating something that the entire Madison community and visitors can enjoy."
Filmgoers can enjoy the many dining options found at Memorial Union and the Terrace, including hot dogs, chips, and sodas for $1 each – a special deal exclusively offered on Lakeside Cinema Sunday and Monday screening evenings at the on-site Brat Stand starting at 8 p.m.
Terrace seating at film showings is available on a first come, first served basis. In the event of inclement weather, the Wisconsin Union team will aim to host the screening in der Rathskeller in Memorial Union.
In addition to the summer screenings on the Terrace, the WUD Film Committee presents free film showings in the Marquee at Union South each fall and spring and is one of the 11 student-run committees and six clubs that make up WUD. These WUD student leaders create more than 1,000 free or low-cost events each year while cultivating real-world leadership skills. Many of them receive academic stipends funded by Wisconsin Union operating revenue and donations for their work.
The Union's free and low-cost events, as well as student leadership opportunities, are made possible through donations to the Wisconsin Union, purchases at the Union's dining options and online store, as well as Wisconsin Union membership purchases.
For a full lineup of Terrace season events, visit terracesummer.com.