A summer to remember at the Memorial Union Terrace with return of free Terrace programming and debut of limited time restaurant
Posted: 06/03/21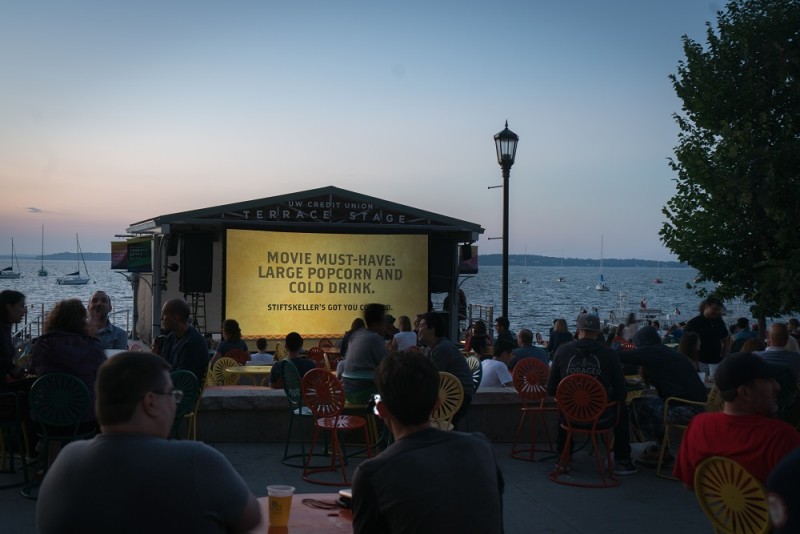 Free film showings, music performances and art activities as well as a new, limited time dining experience will provide Terrace-goers with experiences for a lifetime at the Memorial Union Terrace.
Terrace season events will begin with Terrace Art Zone, a series of free art projects hosted by the Wisconsin Union's Wheelhouse Studios. Patrons can take part in printmaking on June 9, weaving on June 23, mobile-making on Aug. 4, and object marbling on Aug. 18 from 5-7 p.m. or while supplies last. In the case of inclement weather, Art Zone will occur at Wheelhouse Studios, located on the lower level of Memorial Union. Wheelhouse will also host its annual, free group paint night on the Terrace, called Paintacular, on Sept. 6 from 3-5 p.m. or while supplies last. Space for these events is available on a first come, first served basis.
Wheelhouse also offers DIY art activities, art classes, group events, and studio space by reservation at Memorial Union.
Free, live music on the Memorial Union Terrace's UW Credit Union Stage will begin June 11 with a lineup that includes the following events:
Beo String Quartet, June 11 at noon
Pat McCurdy, June 11 at 7 p.m.
Donna Woodall and Marquis Hill, June 19 at 7 p.m.
Cork 'n Bottle String Band, June 24 at 7 p.m.
Don't Mess with Cupid, July 2 at 7 p.m.
Bear in the Forest, Deryk G. and Sylvie Lou, July 10 at 7 p.m.
Handphibians, July 15 at 7 p.m.
Steely Dane, July 23 at 7 p.m.
Telethon and Half Catholic, July 31 at 7 p.m.
To be announced artists with performances presented as part of the Sugar Maple Music Festival, Aug. 5 at 7 p.m.
Terrace music programming, with the exceptions of Donna Woodall's and Marquis Hill's performances, is presented by the Wisconsin Union Directorate (WUD) Music Committee, one of 11 University of Wisconsin–Madison student-run committees and six clubs at the Wisconsin Union. Union committees and clubs present hundreds of events each year while gaining hands-on leadership experiences.
Donna Woodall's and Marquis Hill's performances are part of the Madison Jazz Festival and are presented by the Wisconsin Union Theater in collaboration with Arts + Literature Laboratory.
The WUD Film Committee will host free film showings, called Lakeside Cinema, on the Terrace's UW Credit Union Stage, beginning June 14 with a lineup that the Committee calls, "Seriously Summer." All "Seriously Summer" screenings will begin at 9 p.m. The film showing schedule includes the following:
"Dazed and Confused," June 14
"Finding Nemo," June 28
"Raiders of the Lost Ark," July 12
"Do the Right Thing," July 26
"Lilo and Stitch," Aug. 9
"Wet Hot American Summer," Aug. 23
In the case of inclement weather on a film showing or live music event date, the performance or film showing on that date will be canceled. Student leaders and Union team members may add additional events to the Terrace season lineup throughout the summer. For the most up-to-date events list, guests can visit TerraceSummer.com. Seating during live music and film showings is available on a first come, first served basis.
The Union has held hundreds of virtual and some limited-capacity, in-person events since COVID-19-related public health and safety guidelines began. While the Union opened the Terrace for summer 2020, due to public health guidelines, the Union did not hold Terrace season events in 2020.
Free programming and providing student leadership opportunities through events have been Wisconsin Union traditions for more than 90 years. With its events, activities, services and its buildings Memorial Union and Union South, the Union's team members and student leaders work to create inclusive, welcoming spaces where all belong and to provide exceptional leisure and recreation opportunities.
"We couldn't be more excited to bring events back to the Terrace," said Heidi Lang, Wisconsin Union associate director for social education. "After a year in which we connected mostly through virtual events, the chance to experience events alongside others again is a glimpse of normalcy and hope and something we will never take for granted."
The Wisconsin Union dining team will also host a new, limited time dining experience, called the Sunset Lounge & Outdoor Restaurant at the Shannon Sunset Lounge. This reservations-only dining will take place Thursday-Saturday from 4-10 p.m. beginning June 17.
The restaurant's menu options include a variety of shareable dishes, such as house-made hummus with vegetables and zaatar pita and 16-inch pizzas, such as the buffalo chicken pizza with roasted garlic, buffalo sauce, bleu cheese, chicken, red onion, mozzarella cheese and a ranch drizzle. Guests can also order a crème brûlée as well as a variety of beverages.
Guests can book two-hour reservations for one to six people at a table. Twenty-five tables will be available. Sunset Lounge & Restaurant tables and seating will be located outside of the Sunset Lounge on the Terrace. This concept is presented in part thanks to sponsorship support from Dean Health Plan, a member of SSM Health.
Purchases at the Wisconsin Union's markets, cafes and restaurants as well as Wisconsin Union membership purchases help the Union team provide its buildings, services, events, activities and student leadership opportunities. As an organization operating without taxpayer dollars, this support is crucial to the Union's ability to continue to provide experiences for a lifetime, as it has done for more than 100 years in Madison, Wis.
In addition to the Union's usual rigorous cleaning practices, current COVID-19-related health and safety practices at Memorial Union include reduced capacity, increased cleaning of frequently touched surfaces and shared spaces, and providing table self-cleaning stations and hand sanitizer stations.
Patrons can visit TerraceSummer.com for information about Terrace summer programming, current health and safety information, and other Terrace operations details.